Discover more from Distributed Humanity
Man is a networked animal — an exploration of distributed systems, business models, and the future of media.
Should the US ban TikTok?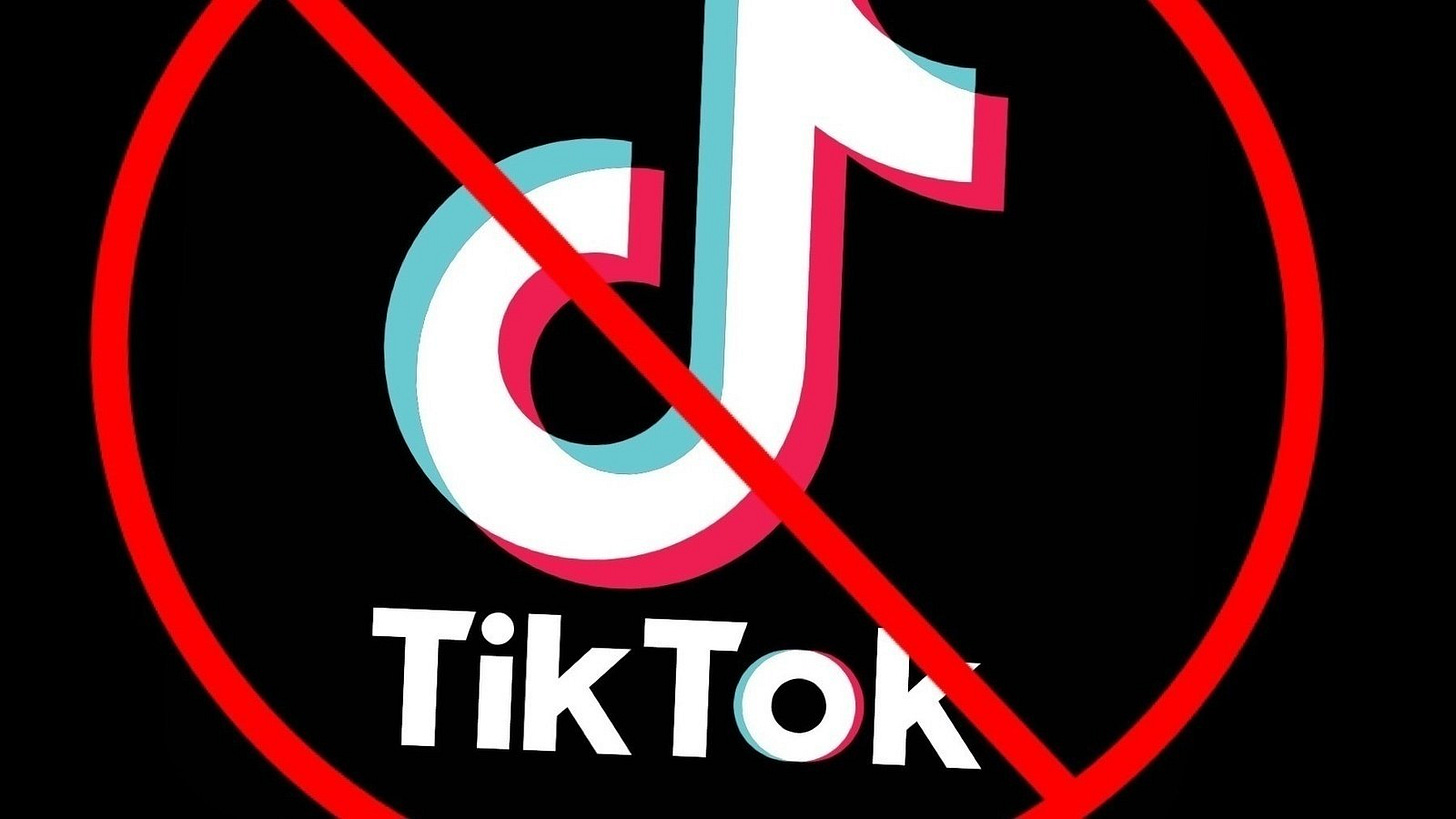 A few days ago I tweeted in jest:
Little did I know that the US government would consider using the App Stores as its own Great Firewall.
India fired the first shot in the Tech Cold War by banning TikTok and WeChat. And suddenly, the idea of the US government banning TikTok has gone from fringe idea to mainstream almost overnight, with #SaveTikTok and #BanTikTok trending on the bespoke app.
What's the argument for a potential ban? There are two main concerns:
Data protection: What data does TikTok collect? Where is this data stored, and with whom is this data shared?

Black-box algorithm: Since all content on TikTok is mediated by the algorithm, the Chinese government could force TikTok to tweek its algorithm and sway political events in the US without anyone in the US knowing.
Both issues are important, so let's break them down one-by-one. Let's first focus on data protection. Ben Thompson writes in Stratechery:
All Chinese Internet companies are compelled by the country's National Intelligence Law to turn over any and all data that the government demands, and that power is not limited by China's borders. Moreover, this requisition of data is not subject to warrants or courts, as is the case with U.S. government requests for data from Facebook or any other entity; the Chinese government absolutely could be running a learning algorithms in parallel to ByteDance's on all TikTok data.
Scary stuff. Hosting data on US-based servers doesn't mean that the data is outside the reach of the Chinese Communist Party.
What sort of data does TikTok collect? A reddit user named bangorlol writes:
TikTok is a data collection service that is thinly-veiled as a social network. If there is an API to get information on you, your contacts, or your device... well, they're using it.

Phone hardware (cpu type, number of course, hardware ids, screen dimensions, dpi, memory usage, disk space, etc)

Other apps you have installed (I've even seen some I've deleted show up in their analytics payload - maybe using as cached value?)

Everything network-related (ip, local ip, router mac, your mac, wifi access point name)

Whether or not you're rooted/jailbroken

Some variants of the app had GPS pinging enabled at the time, roughly once every 30 seconds - this is enabled by default if you ever location-tag a post IIRC

They set up a local proxy server on your device for "transcoding media", but that can be abused very easily as it has zero authentication
While it's hard for me to verify these details, the author seems credible and technically knowledgeable - he notes that TikTok maintains "a customized fork of OLLVM." Mike Issac, writing for the New York Times, has also cited his reddit post. TikTok seems to be collecting far more information than it needs to serve lip-syncing dance videos, but is that enough to warrant a ban?
If this data collection is truly problematic, then the US should draft a policy outlining what data collection makes an app dangerous to US national security. Otherwise, any foreign/Chinese app will be weary of expanding into the US, out of fear that the US government might ban the app. SupChina proposes:
The way to deal with this problem is to develop a country-agnostic set of criteria with robust rules not just for TikTok, but for how all companies collect, retain, and share their data. Instead of playing a game of whack-a-mole against a rotating cast of Chinese tech companies, the U.S. would be wise to spend more time developing legislation and standards for how all companies, regardless of country of origin, protect online privacy and secure data. No company should have access to and retain sensitive data in the first place that could then be transmitted to a government that could use it to do harm or be hacked by state actors.
This seems like a sensible approach: Let Congress take the lead to develop reasonable data regulations. Yes, Congress is slow, but Congress should be the one who takes the lead on regulation.
Let's move to the second argument for banning TikTok: the almighty algorithm. The New York Times reports that K-Pop teens on TikTok sank the Trump rally in Tulsa:
President Trump's campaign promised huge crowds at his rally in Tulsa, Okla., on Saturday, but it failed to deliver. Hundreds of teenage TikTok users and K-pop fans say they're at least partially responsible…

TikTok users and fans of Korean pop music groups claimed to have registered potentially hundreds of thousands of tickets for Mr. Trump's campaign rally as a prank. After the Trump campaign's official account @TeamTrump posted a tweet asking supporters to register for free tickets using their phones on June 11, K-pop fan accounts began sharing the information with followers, encouraging them to register for the rally — and then not show.
TikTok has won the hearts of Gen Z, and as the internet-native generation, they instinctively know how to corrale social media towards a singular objective. Combined with a powerful algorithm, TikTok could prove pivotal in political events, such as democratic elections.
Such power scares Ben Thompson, who is afraid that the CCP will use TikTok as a weapon - just like it has used other companies as weapons. In June, China ordered Zoom to suspend three US and Hong Kong-based human rights activists who were commenorating Tiananmen Square - The kicker? Zoom is a US company. If China is actively using US companies to carry out its censorship, we should regard such overtures as merely the tip of the iceberg: The dark underbelly is all the censorship requests that China makes to Chinese companies that we don't see.
Xi Jinping has been very outspoken about the role of the Chinese Communist Party in Chinese society. Gerry Shih tweeted:
It's hard to claim that 'Huawei' or 'Bytedance' are an independent company when the CCP believes that all of pieces of Chinese society are stars in its constellation. In the US, a court has to approve the requisition of information from US companies. China has no such problem, which is problematic because TikTok's privacy statement clearly states that TikTok will share data with Bytedance, its Chinese owner:
Within Our Corporate Group

We may share your information with a parent, subsidiary, or other affiliate of our corporate group.
Ben Thompson is encouraging the US government and US corporations to take a stronger stand against Chinese apps: If there is not a clear demarcation between Chinese companies and the Chinese Communist Party, then the Chinese Communist Party will inevitably use the tools at its disposal to actively advance the cause of Marxism and defeat liberalism. Many countries and companies are waking up to the amorphous relationship between the CCP and Chinese companies: Britain recently backtracked its plan to use Huawei to build its 5G infrastrcuture.
So should the US government ban TikTok?
The biggest argument against banning TikTok is that banning apps is what China does. China knows that social media is powerful — that's why they banned Facebook, Twitter, and Instagram. If the US blocks a foreign social media company because it's too influential, is the US government signalling to the world that US companies don't want to compete with foreign companies?
Secretary of State Mike Pompeo said the U.S. would ban the app because it "puts your private information in the hands of the Chinese Communist Party." But wouldn't that mean that the US would have to ban all Chinese apps - since they're all under threat of coercion from the Chinese Communist Party?
I'm skeptical of banning TikTok for many reasons. It's clear that the Chinese Communist Party uses companies (Chinese and American) to carry out its censorship and promote its propaganda. Given such a reality, it makes sense to tread slowly.
TikTok should firewall its data from its parent company in China to ensure that the Chinese Communist Party cannot access the data. To allay fears of algorithmic manipulation, TikTok should continue to open itself up for third-party audits, like the investigation by Buzzfeed last year that found no evidence that TikTok took down content related to Hong Kong protests.
I'm frightened of second-order effects of a US TikTok ban - other countries would seize the opportunity to close their markets to US apps, which would be a significant blow. The open web is already balkanizing around geopolitical lines - the US banning TikTok would simply accelerate such a trend, to the detriment of all.
To put it simply, the App Store shouldn't be the Great Firewall.